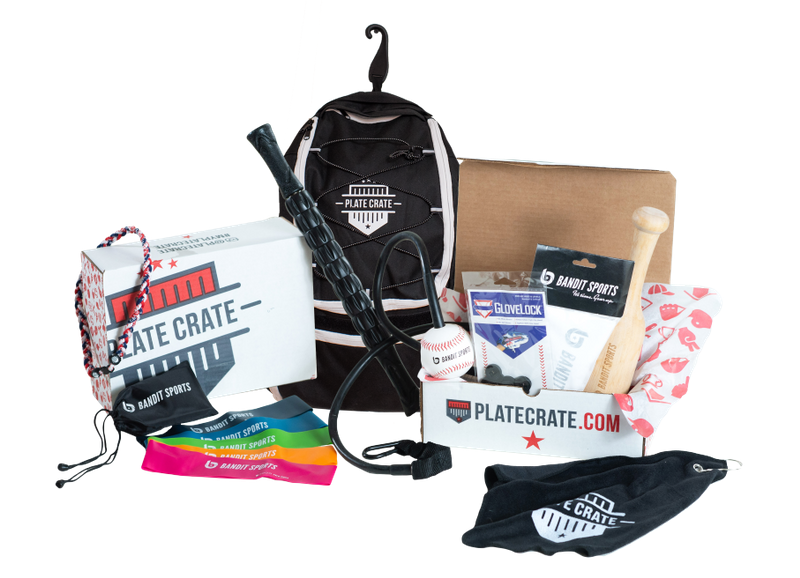 Everything you need to know about Player Specific Crates!
Plate Crate is finally introducing baseball player specific Plate Crates! Here is a guide for everything you need to know about the crates. If you have a question please email us at info@platecrate.com. We would love to hear from you!
Overview 
Since 2015 Plate Crate has only offered 1 item, our standard Plate Crate. In our flagship Plate Crate, you would find a variety of baseball gear, training aids, accessories, apparel, coupon codes, snacks and more. However…our monthly Plate Crate was mostly for hitters and fielders. Everything in the Plate Crate included hitting trainings aids, hitter's gear, fielders gear, and outfield gear that was mostly centered around position players. Thats all changed though! We are now creating player specific Plate Crates for everyone! 
Our first round of launches
First round of launches will be on March 26, 2020 and will include…
Hitter's Crate
Hitter's Crate Pro
Pitchers Crate
Pitchers Crate Pro
Infield Crate
Infield Crate Pro
Outfield Crate
Outfield Crate Pro
Catcher's Crate
Catcher's Crate Pro
We will also be launching "MVP" versions of these crates as well this summer! 
Here is the guide to the most frequently asked questions about the Player Specific Crates!
Is this a recurring order?
No! This is a one time purchase. This is not a subscription at all! We found a lot of our customers wanted to give Plate Crate as a baseball gift, and not necessarily as a subscription. Each level of crates is a one time purchase!
Are you coming out with more positions?
Yes! We are coming out with every position slowly. We will also have a  baseball coaches crate, baseball mom crate, baseball dad crate, apparel crate, 1st base crate, softball crate, slow pitch softball crate, modified fast pitch crate, and more! Each of these crates will have 3 levels, regular, pro, and MVP. 
How much?
The regular player specific crates are $59 and has over $100 in MSRP, the Pro crates are $99 and have over $150 in MSRP, and the MVP crates are $149 and have over $220 of MSRP! 
Is there free shipping?
Yes! Shipping is always free for domestic orders in the US. There will be a shipping fee if you order internationally though. 
Do you ship internationally?
Yes! We ship internationally! We will ship to anywhere in the world! 
What are power ups?
Power ups are add-ons to your crates! For example if you got a Hitter's Crate Pro, and wanted to add some fielding gear, you could add the Infield Power Up! This would give you mostly hitter's training aids, but also some infield ones! We will had Infield Power Ups, Throwing Power Ups, Fielding Power Ups, and Hitter's Power Ups! They are the perfect addition so you can mix and match positions!
Are there any discounts?
We will only be doing discounts for pre-orders before we launch! We will start taking pre-orders two weeks before we launch on March 26th!
Sign up to get the pre-order notification here. 
Here is a few photos of the different Player Specific Plate Crate's we are launching on March 26th!
Sign up for first dibs, pre-orders, giveaways, and discounts
here!